Estrous cycle control


602-06

175-178
Preventing Estrus

Progestagens
Ova-Ban
Ovaban is megestrol acetate, a synthetic progesterone.
As of 2002 this product was no longer available
9/28/04 - Available at:

Cornerstone Pharmacy and Compounding Lab
100 South Main St.
Versailles, KY 40383
877-581-8828

To prevent estrus
To prevent estrus administer 0.25 mg/lb for 32 days. A maximum of 32 days is approved by the manufacturer. To prevent the next cycle start at least 1 week before the next anticipated estrus cycle. The next heat will be in 4-5 months if the Ova-Ban is given shortly before the next heat will occur.
If the Ovaban is given during diestrus (for example, the client did not know what stage the bitch was in) the next cycle will be at the regularly anticipated time.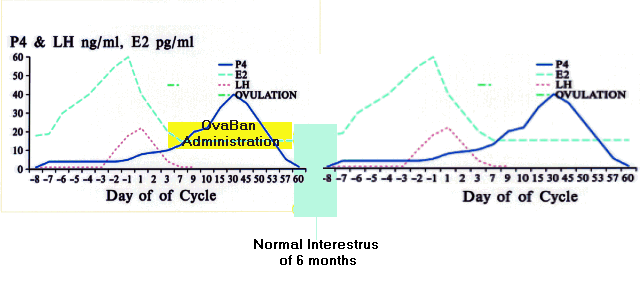 The drug is 97 % effective at preventing estrus.
There is no apparent effect on fertility
To stop estrus when the bitch is in proestrus.
The bitch must be in first 3 days of proestrus to be effective.
Administer 1 mg/lb/day for 8 days.
The next estrous cycle will be 4-6 weeks earlier than the heat normally would have been.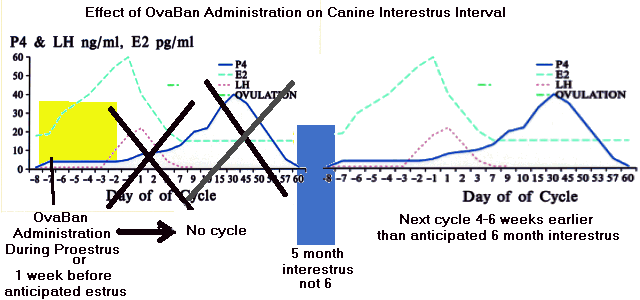 If the bitch should be bred during the first 3 days of treatment, consider mismate management. If the bitch is bred after 3 days of treatment, pregnancy is unlikely to occur.
The drug is 92 % effective at preventing the estrus if the bitch is in the first 3 days of proestrus.
Deproprovera
Depoprovera is long acting injectable progestagen. It has been taken off the veterinary market, but is still available on human market.
Administration predisposes to pyometra.
Other Injectable progesterones
All injectable progesterone predispose the bitch to cystic endometrial hyperplasia (CEH) and pyometra.
Androgens
Cheque drops
Cheque drops may be available in the US at this time (October 2004).

Road Runner Pharmacy - 877-518-4589
Premier Pharmacy

www.premierpharmacylabs.com

Were at Wedgewood pharmacy (not as of August 2004)

373-K Egg Harbor Rd.
Sewell, NJ 08080
609-5894200

(http://www.wedgewoodpharmacy.com/contact.asp) is listed on their site as:"Mibolerone 100ug/ml 55ml Sol"

Cheque drops are 'mibolerone', an androgen.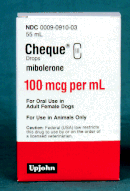 The androgen blocks LH release, therefore preventing estrus.
It is advised not to give before first heat because it will cause premature physeal closure.
You must start treatment at least 30 days before the next anticipated heat.
Dose schedule

Mibolerone Dosages

lbs.

mcg/day

1-25

30

25-60

60

50-100

120

>100

180

G.Shepherd

180
It has been approved for a maximum of 24 months, but it has been given as long as 43 months experimentally without causing problems.
The next heat will be in 7 - 200 days (i.e. unpredictable) and will be of lowered fertility.
If pregnancy does occur, any female pups will be masculinized.
May cause clitoral hypertrophy (tail lighters).
Fertility reported as normal on first estrus.
It is not for breeding bitches

Testosterone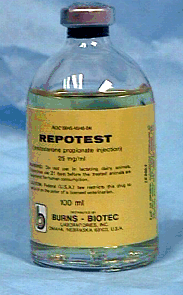 Testosterone is routinely used in greyhound kennels to prevent estrus.
Procurement is more difficult now due to abuse by athletes.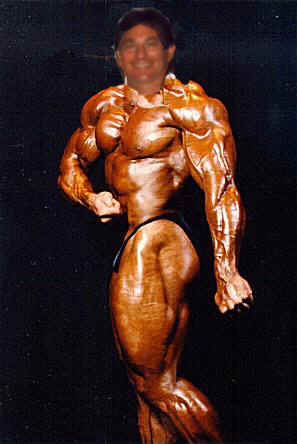 .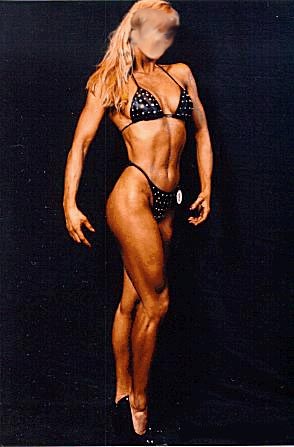 Dose
Oral - Methyl testosterone- 5 mg/wk (or give ½ the dose, 2X/wk)
Parenteral - Testosterone propionate - 100mg/ml preparation, 25 mg IM (in the pectorals) every 2 wks
May take several months to have an estrous cycle.

Click here to go the FDA "GREEN BOOK"
of Approved Animal Drugs