Estrous cycle control in the cow

290-294
The goal in controlling the bovine estrous cycle it to have all the cows in heat at exactly the same time so heat detection can be eliminated entirely. Synchronizing estrus is a method to condense heat detection and breeding efforts into a tighter time frame. This tighter time frame allows the dairy producer to concentrate efforts more efficiently on breeding and allows easier use of artificial insemination in beef herds.
It is also a good management tool for the 5% of beef cows that have AI. Estrous synchronization allows easier AI because of the decreased heat detection needed. This allows beef producers to use better bulls and attain a more uniform calf crop with higher weaning weights, and earlier puberty in the calves.
In dairy cows heat detection is almost always the number 1 ranked problem. Estrous synchronization decreases heat detection and can make life easier on a dairy.
Presently, estrous synchronization is only successful at grouping cows into estrus, not getting all of them into estrus at exactly the same time.
Problems
None of the methods are fertility drugs. The AI technique must be good and usual heat detection ability must be good for the system to succeed. Animal handling facilities must also be good. If 100 cows are in heat and the first one breaks open the gate and allows the other 99 to get loose, then it really does not matter that they are all in heat at once, because you cannot catch them to breed them.
In all situations the cows must be cycling for the system to work. Anestrus cows will not respond to these protocols, the cows must be cycling.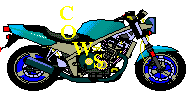 Products

There are two basic methods to synchronize estrus. One is to kill the corpus luteum that is present with exogenous prostaglandin so the cow comes into heat. The other is to create an artificial luteal period with progestagens, then abruptly remove the progestagen and allow the cow to come into heat.

Prostaglandins 'kill' the corpus luteum and allow a follicle to grow
Progestagens create an artificial luteal period.

In beef cows and dairy heifers entire groups or herds are usually synchronized at one time and both progestagens and luteolytic drugs can be used. However, in lactating dairy cows a limited number of cows in a week's time are eligible for estrous synchronization and only prostaglandin products are approved for use.
Prostaglandins
Products
The products generally available are 'Lutalyse' which is the natural PGF (tham salt: dinoprost tromethamine). The dose is 25 mg or 5 cc IM.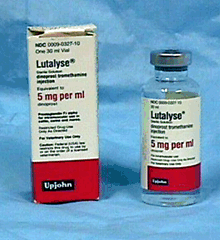 'Estrumate' is the prostaglandin analogue cloprostenol. The dose is 500 mcg or 2 cc IM.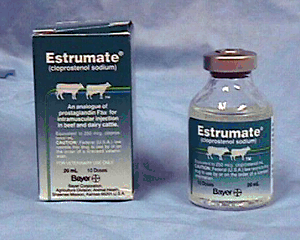 Bovilene is the prostaglandin analogue fenprostalene. The dose is 2 cc SQ. This is a longer acting product and was first approved as an abortifacient.
Method of action
These exogenous prostaglandins have the same pharmacological action as the endogenous prostaglandin released during the estrous cycle. The prostaglandin binds to receptors on the mature corpus luteum and basically kills the corpus luteum. As progesterone falls, follicles grow and the cow comes into heat.
When will cows respond to prostaglandin?
Anytime a mature corpus luteum is present prostaglandin will lyse it and allow the cow to come into heat.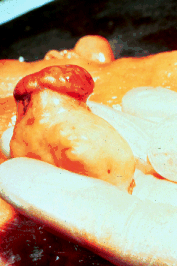 The best estrual response is normally seen when the drug is given after day 8 of the cycle.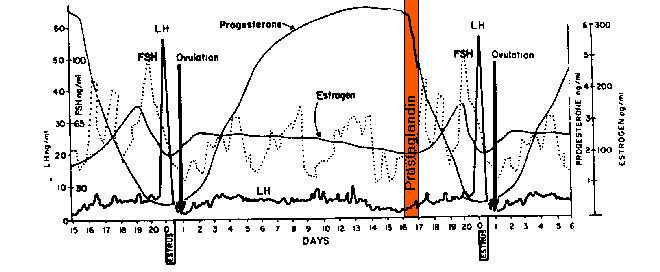 This chart shows the normal prostaglandin surge in a non-pregnant cow.
Any dominant follicle can potentially ovulate if the exogenous prostaglandin is luteolytic. However, once a dominant follicle has become static for 2 days or is regressing, a new follicle must be recruited that will ovulate if the corpus luteum is lysed. This varying dominant follicular response, not the time to luteal regression, leads to the variability in estrual response after prostaglandin administration.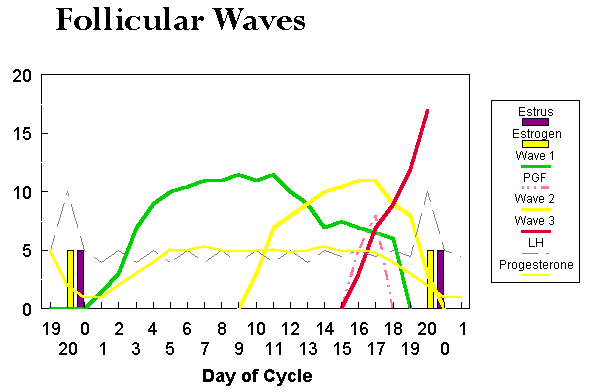 This chart shows the follicular waves in a '3 wave' cow.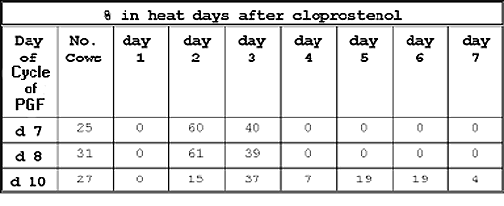 This chart shows the estrual response after prostaglandin on 7, 8, or 10 of the cycle.
On day 8 the synchrony is tight is because the dominant follicle can respond.
On day 10, just 2 days later, the dominant follicle cannot respond, so the synchrony is not tight.



Prostaglandins in dairy cows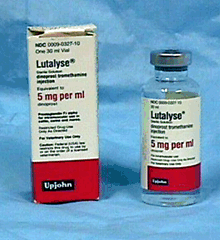 Click to see PowerPoint on Prostaglandin Synchronization Schemes

The usual method on a dairy is to wait until the voluntary waiting period is over and then assign cows to groups to receive a PGF injection, for example on a Monday. Estrus detection is then limited to the next 4 days.
Single Injection Prostaglandin Injection System
Day of Cycle

Response to PGF

injection

0 - 6

7/21 Will not respond

7

May or May not respond

8 -16

9/21 should respond and be in heat in 1-5 days,

BREED !!

17-20

4/21 Will not respond, but will be in heat in 1-4 days, BREED !!
As can be seen from the figure above, in a group of randomly cycling animals only 13/21 should come into estrus and only 9/21 actually respond to the PGF meaning 'wasting' 12 doses out of 21.

To minimize this problem, some practitioners will palpate for the presence of a corpus luteum or have the producer run a milk progesterone to determine if a corpus luteum is present.

If we look at the sensitivity and specificity of either of these tests, we find that they are probably not cost beneficial. The cost of the mistakes outweighs the cost of palpation.
For example, looking at the figure and using a sensitivity of 83% and a specificity of 53% for rectal palpation identification of a corpus luteum (both figures are what good palpators can achieve) we see that in a random cycling herd of 21 cows, 10 would have corpora lutea and 11 would not.
Palpation would say that 13 have a corpus luteum and 8 do not. Two cows that should get PGF would not and 5 cows that do not have corpora lutea would get prostaglandin. Instead of costing $63 for injections of prostaglandins to all cows and having 10/21 respond, it would cost at least $42 to palpate the cows, $26 for prostaglandin and only 8/11 would respond to PGF. Milk progesterone tests do not fare much better for success.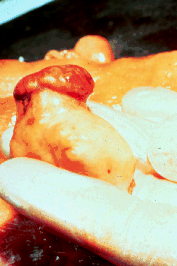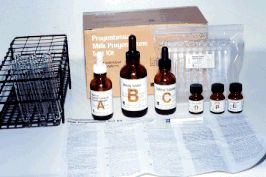 Sensitivity and Specificity of Rectal Palpation to Determine the Presence of a
Mature Corpus Luteum in Cycling Cows
Corpus Luteum Present

Palpate Corpus Luteum

Yes

No

Totals

Yes

8

5

13

No

2

6

8

Totals

10

11

21
The tightness of the synchrony of those cows responding to PGF will also not be very good because of the different stages of dominant follicular growth. Some cows will come into estrus soon, because a dominant follicle is ready to ovulate. Some cows will not come into estrus until later because the dominant follicle is regressing and a new follicle will take longer to grow and ovulate. Whether to breed at estrus or to time breed is another question. Since only about 14/21 cows will come into estrus, time breeding will obviously not yield more than about a 30% conception rate at best and 7 doses of semen will be totally wasted. Since the synchrony is not very good in this system, conception will probably be even lower than 30%. A cost analysis of time breeding in dairies after PGF showed that (assuming PGF costs $6/dose and fixed heat detection was 50% , or 60% when using PG) you should detect heat if semen is >$5/straw. If heat detection is < 40% and if semen is >$30/straw you should recommend heat checking. It was emphasized that it is important that the use of PGF is done early and not postponed for only 'problem' cows. No other methods are widely accepted or used in dairy cows at present.
Prostaglandins in beef cows

If beef cows are cycling, several options exist on using prostaglandins to synchronize estrus. The traditional technique described by the drug companies is to give an initial injection of prostaglandin on day 0 and a second injection 11 days later.
Theoretically this allows all the cows on day 11 to have a corpus luteum that will respond to the second PGF injection. If the animals are cycling, heat detection can be limited to 5 days and estrual response is somewhat less variable than after only 1 injection. In theory you 'waste' 11 (32) doses, which makes the system rather cost intensive for prostaglandin. The decreased variability to estrus can be explained by the fact that most of the cows on day 11 are on about day 8 of their estrous cycle. On day 8 most cows have a growing dominant follicle that can ovulate after luteolysis. In contrast, the totally random cycling herd has cows that will respond to PGF but may not have a dominant follicle that can ovulate, so a new follicle will have to grow over a variable time frame in order to ovulate.
Double Injection Prostaglandin Injection System
1st injection

Day 0

2nd injection

Day 11

Day of Cycle Day 0

Day of Cycle Day 11

0-6

7/21 Will not respond

11-17

Should respond and be in heat in 1-5 days,BREED !!

7

May or may not respond

8 or 18

8 -16

9/21 should respond and be in heat in heat in 1-5 days

8

17 -20

4/21 Will not respond but will be in heat in 1-4 days.

8




After the first PGF injection you heat check and breed all those cows that come into estrus. After 11 days a second PGF injection is given to those cows that were not bred. This results in 'wasting' only 12 doses, but heat checking is increased from 5 days to 10 days. This results in more labor cost, but less drug cost.


Variation of the 2 injection system.
Double Injection Prostaglandin Injection System With Breeding After
First Injection
1st injection

Day 0

2nd injection

Day 11

Day of Cycle Day 0

Day of Cycle Day 11

0-6

7/21 Will not respond

11

Should respond and be in heat in 1-5 days,BREED !!

7

May or may not respond

8 or 18

Breed or Give second in injection.

8 -16

9/21 should respond and be in heat in heat in 1-5 days, BREED !!!

17 -20

4/21 Will not respond but will be in heat in 1-4 days, BREED !!
A good alternative to each of these systems is to heat check the cows for 7 days and breed all those cows that come into heat.
Single Prostaglandin Injection System Preceded by 7 Days of Heat Detection
Heat Check, Breed 7 days

Injection

Day 7

Day of Cycle Day 0

Day of Cycle Day 7

0 -13

14/21 Will not be in heat

7 -16

Should respond and be in heat in 1-5 days, BREED !!

14 -20

In heat and BRED over the 7 day heat detection period.
After 7 days of heat detection and breeding, a dose of PGF is given to each cow that has not been bred. This means that there are only 4 'wasted' PGF doses. It does mean that heat detection is increased to 12 days. Some nice benefits of this system are that it gets heat checking and breeding geared up. Since only a few cows per day are being bred, there is no big push all at once. It also is a good check to see if the cows are cycling and/or the heat checking ability is good. If 5% of the cows are not seen in heat every day, the cows are not cycling or the heat detection ability is not good.
Progestagens in beef cows

Exogenous progestagens create an artificial luteal period that prevents the cow from coming into estrus. The early use of long term progestagens (>14 days) such as medroxyprogesterone acetate (MAP), chlormadionone acetate (CAP), and melengestrol acetate (MGA) were very effective at preventing estrus and resulted in a large percentage of cows coming into estrus after withdrawal, but pregnancy rates were very low. The result was that the products were not really very effective.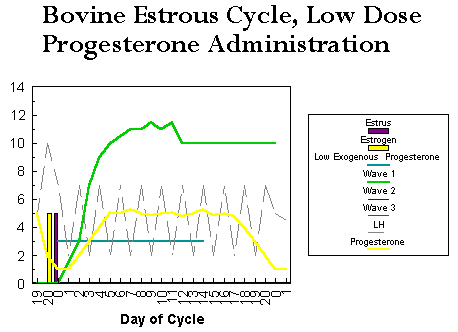 Low dose progestagen allows an aged wave 1 follicle to ovulate upon progestagen withdrawal.
Shorter term treatments with progestagens combined with luteolytic drugs resulted in good synchrony and better conception rates.
SYNCRO-MATE B
As of August 1999, this product is not available in the United States because of production difficulties in obtaining some of the raw materials from overseas.
The most popular treatment is SYNCRO-MATE B (SMB) which combines a 5 mg estradiol valerate + 3 mg norgestomet injection with a norgestomet (6 mg) ear implant that is removed after 9 days.
Results reported by the company look very good for SMB, but in other trials fertility is less than ideal. The fertility in these in these other trials depended upon the days of estrus that the treatment started.
If the treatments started late in the estrous cycle, conception was lower. Inspection of those cows with lower conception rates revealed that upon treatment, a dominant follicle was present. This dominant follicle persisted, aged, and ovulated an old oocyte when the progestagen was withdrawn. Persistence of the follicle was allowed by the lower doses of progestagens not preventing the LH release. With normal LH release, new follicular waves are prevented from arising.
Availiable as CRESTAR in Europe.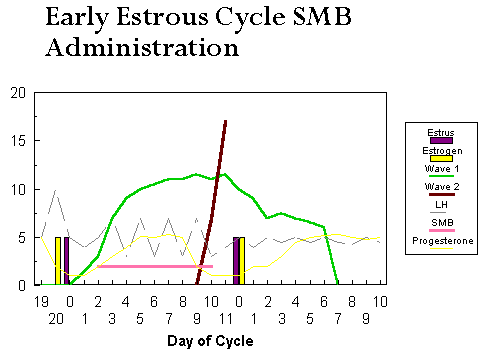 Early estrous cycle administration of SMB. Note the second wave follicular growth and ovulation upon SMB removal.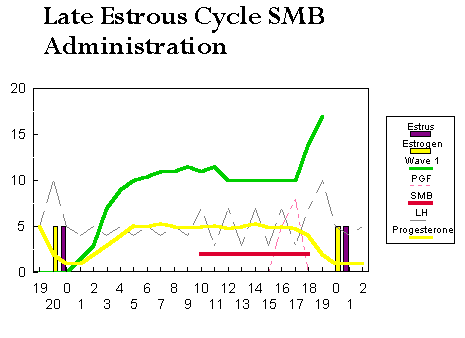 Late estrous cycle administration of SMB. Note the first wave follicular ovulation of an aged oocyte upon SMB removal.
This can be circumvented by providing higher doses of progestagens which prevent LH release and therefore allow 'fresh', new follicular waves of follicles to arise. Combining a 14 MGA treatment with PGF 17 days after the MGA withdrawal provides a hybrid system where good synchrony is achieved, but the low fertility of MGA is avoided by having all the cows on days 11-16 of the cycle for the PGF injection.

Prostaglandins vs Syncro-Mate B
In a study comparing PGF and SMB in beef cows, conception rates were 65% for both groups, calving rates were 60% and 57%, man hours invested were 57 and 44, and calving occurred over 22 and 17 days for the PGF and SMB groups, respectively.
FAILURES

Beef cows
The biggest reason most estrus synchronization methods fail in beef cows is that the cows are not actually cycling. Nutritional anestrus is extremely common in beef cows. It is imperative that the cows receive adequate prepartum nutrition to enable them to resume cycling as soon as possible after parturition.
It is also important not to try to breed the cows before a substantial number has had adequate postpartum time to resume cycling. In most cases the entire herd should be at least 60 days postpartum in order to expect estrus synchronization to work. If the herd average is 60 days postpartum, then half the herd will be less than 60 days postpartum and probably won't be cycling.
Prostaglandins will definitely not work if the cows are not cycling and have mature corpora lutea.
In the case of SMB it has been shown that the estradiol valerate will make ovariectomized cows show standing estrus after treatment, so even anestrus cows will show estrus, but fertility will obviously be low.
Will estrus synchronization work for the producer?
As mentioned, the nutrition of the cows must be adequate to ensure the cows are cycling. How can this be determined?
If 5% of the herd is seen in heat daily, then most of the cows are cycling. Palpation may help, but is certainly not 100% accurate in determining cyclicity.
Heat detection must also be good. Again, if 5% of the cows are not seen in heat daily, then the cows are either not cycling or heat detection is not adequate. At present, time breeding will not give very good conception rates because the tightness of estrus synchrony is not good enough.
The AI and semen handling must be good. If previous conception rates were not good, then the drugs use to synchronize estrus will not improve conception rates. If the AI technician is used to breeding 4 cows/day, can they breed 25 cows consecutively?
If a group of cows is to be synchronized then handling facilities and manpower must be available to handle the animals. If 25 cows are in estrus, the whole estrus synchronization plan will fail if you cannot get the cows to a breeding chute or the first cow through the chute destroys the facilities.
What can a producer expect for results if the estrus synchronization system is correctly implemented on cycling cows?
No better results than previous fertility parameters such as services/conception, pregnancy rates, calving interval and calving season duration should be expected. The producer must decide if time (increased heat detection) or money (increased drug) are going to be invested.
Dairy cows
Since nutritional anestrus is usually not a problem in dairy cows, heat detection inefficiency and a perception of drug failure are the biggest hurdle for dairymen. The tightness of estrual synchrony is not good enough to allow strict timed breeding, therefore heat detection is still important. Having more cows in heat during a limited heat detection period will aid the dairyman. However, if heat detection is poor, the results of the estrus synchronization program will be perceived as poor. A good indication of heat detection efficiency on a dairy is the percentage of cows diagnosed pregnant at pregnancy examination. At least 85% of the cows presented for pregnancy examination should be pregnant. If not, then at least 1 heat was missed by the dairyman to think the cow did not return to estrus and was assumed pregnant.
A perceived drug failure is to be expected since only 13/21 should come into estrus and only 9/21 actually respond to the PGF in a random cycling group of cows. The perception by the dairyman may be that the program is not working very well when it is actually working exactly as expected.

Current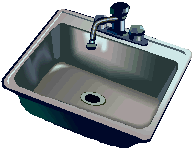 Click to see a PowerPoint on the 'Synch' Systems

A potentially exciting estrus synchronization method has been investigated using a combination of GnRH and PGF. The injection of GnRH causes all estrogen dominant follicles to ovulate, recruits new follicles, and luteinizes 'old' follicles. On day 7 a PGF injection is given. Since the follicles have been luteinized and the follicular waves have been synchronized, all the cows should come into estrus and ovulate at approximately the same time. A second GnRH injection 48 hours after the PGF injection helps ensure ovulation. If time breeding is desired, then the cows can be bred 16 hours after the GnRH injection. Conception rates of 50% have been reported in initial trials.
Recent work has used half the dose of GnRH and found conception rates to be good.
"Ovsynch" System - Prostaglandin Injection System With GnRH
GnRH injection

Day 1

PGF injection

Day 7

2nd GnRH 48 hours after PGF

Day of Cycle Day 0

"Stage" of Cycle Day 7

Breed 16 hours after GnRH

0

Ovulates Follicle

"Luteal"

Responds to injection and come into estrus, Breed

Breed‑16 hr

1 -15

Causes luteinization and recruits new follicles.

"Luteal"

16 -20

Ovulates Follicle

7

"Ovsynch" variation using second estradiol benzoate instead of second dose of GnRH
Fernandes,P; Teixeira,AB; Crocci,AJ; Barros,CM (2001): Timed artificial insemination in beef cattle using GnRH agonist, PGF2alpha and estradiol benzoate (EB). Theriogenology 55(7, 15 Apr), 1521-1532.
Cows treated (Day 0), at random stages of the estrous cycle, with 8 mug of buserelin acetate (GnRH agonist)

Seven days later (D 7) all animals were treated with 25 mg of dinoprost trometamine (PGF2 alpha)

The cows from received one injection of estradiol benzoate on day 8.

AI was performed at 30 to 34 h after the estradiol benzoate injection.

Pregnancy rate was 43.3% for timed AI (compared to 47.7% obtained after regular "Ovsynch" GnRH.
Different Estrous synchronization methods and their names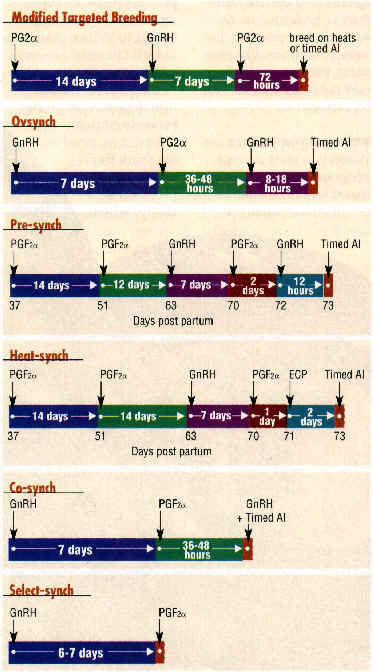 Kitchen-sink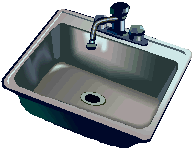 Synchronization Progams from CRI Horizons (Genex)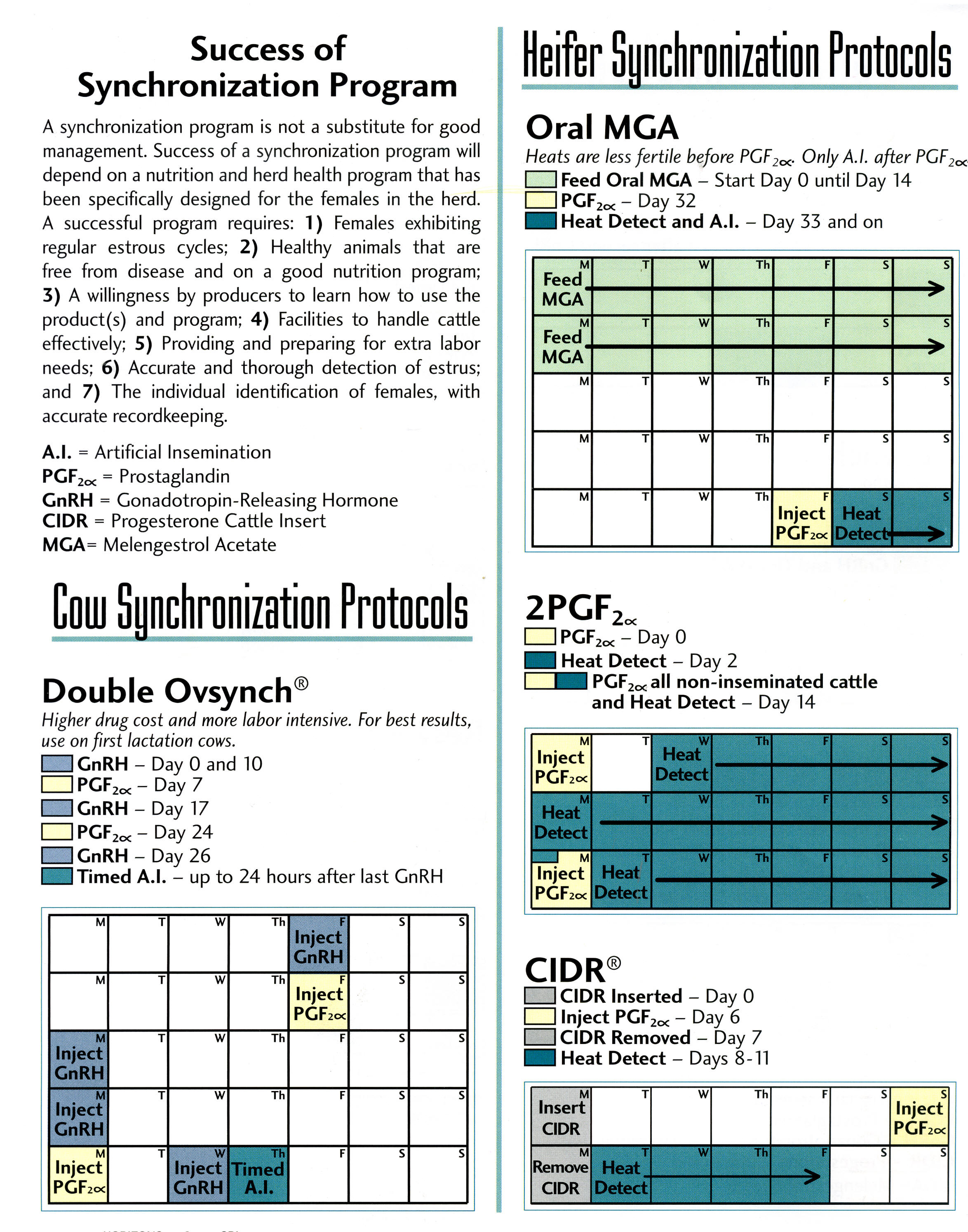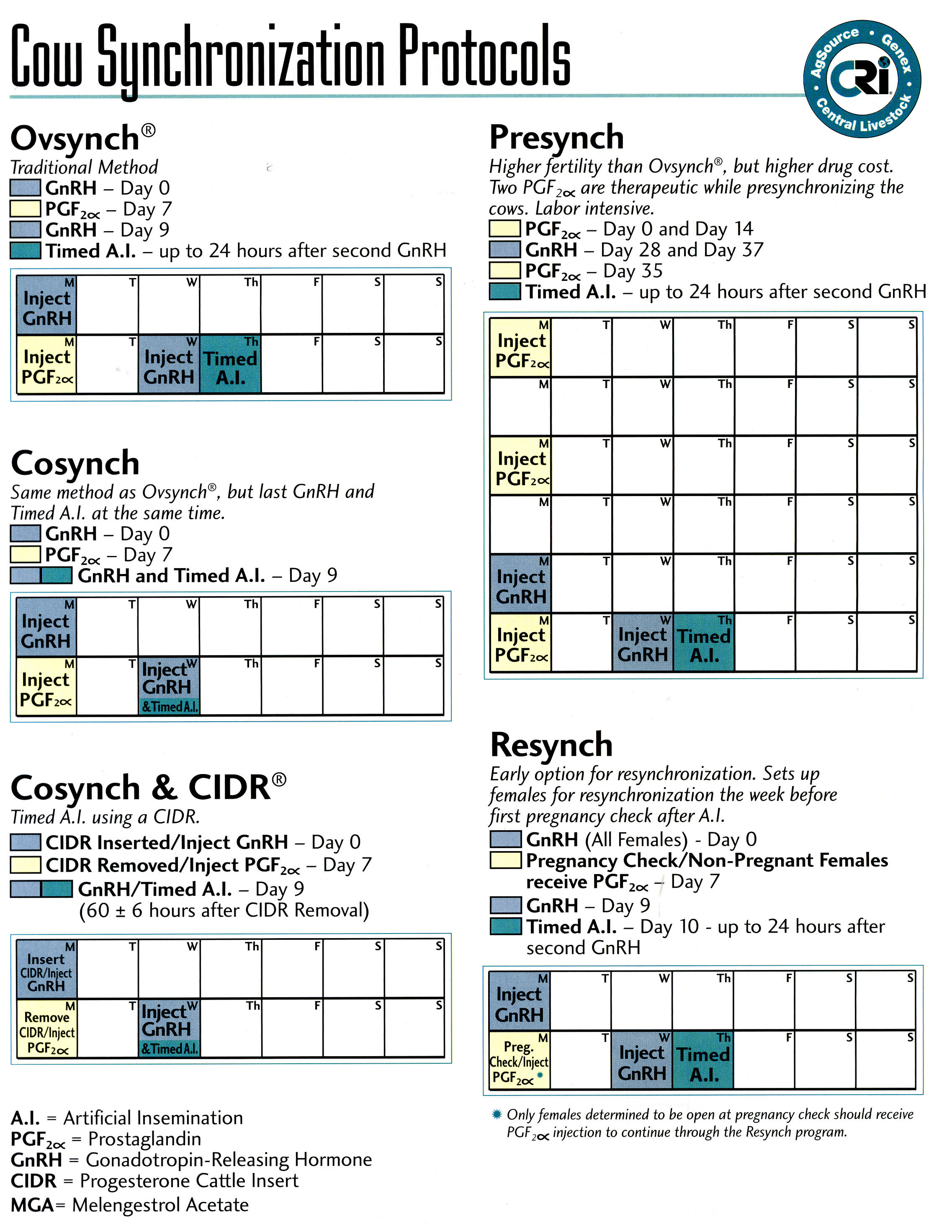 Double Synch
Theriogenology 73 (2010) p 568-576
| | | | | |
| --- | --- | --- | --- | --- |
| Day O | Day 2 | Day 9 | Day 11 | 16-20 hr post GnRH |
| PGF | GnRH | PGF | GnRH | Timed AI |
· Anestrus cows included
o 72% PR (Ovsynch – 23%)
o Too good to be true?
o PGF enhances pituitary LH?
· Cycling cows
o 76% vs 46% for Ovsynch

CIDR (Controlled intravaginal drug releaser)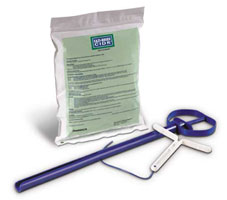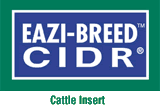 Click above to link to Pharmacia page on CIDR
How the EAZI-BREED CIDR Insert Works

The EAZI-BREED™ CIDR® Cattle Insert is a T-shaped device that's impregnated with progesterone. Placed in the animal's vagina, the EAZI-BREED CIDR Insert continually releases progesterone. Removing the insert and the corresponding injection of LUTALYSE® Sterile Solution (dinoprost tromethamine) causes a drop in progesterone, which triggers estrus and ovulation.


When?
By continuously releasing progesterone, the EAZI-BREED CIDR Insert allows you to start breeding programs at any stage of the estrous cycle. This provides a new solution for synchronization.
Day 0
Day 6
Day 7
Day 8 - 11

---

Administer the EAZI-BREED™
CIDR® Cattle Insert
Inject 5 mL
LUTALYSE® Sterile Solution
(dinoprost
tromethamine)
Remove the EAZI-BREED™
CIDR® Cattle Insert
Heat detect and breed on detected estrus
Administration



Insertion and removal of the EAZI-BREED™ CIDR® Cattle Insert quickly can become a standard part of any herd's breeding routine. View this video clip to see how to administer the EAZI-BREED CIDR Insert.

For best results, follow these simple steps:



Wear protective gloves whenever handling the EAZI-BREED CIDR Insert.

Prepare a container of clean water with disinfectant solution to wash the applicator between uses.

Fit the body of the insert into the applicator with the tail along the slot. The two wings will be pushed together, protruding about one inch above the top of the applicator.

Apply a generous amount of lubricant to the tip of the insert.

Shift the animal's tail to one side, and clean the vulva.

Make sure the tail of the EAZI-BREED CIDR Insert is on the underside of the applicator, curling down, to ensure that the tail will be hidden from curious penmates.

Open the lips of the vulva and insert the applicator at a slight upward angle, moving forward over the pelvic bone until it meets resistance.

Dispense the insert from the applicator by depressing the plunger, then slowly withdrawing the applicator body.

To prevent removal by curious penmates, you may want to clip the tail of the insert so that 2.5 inches protrude from the vulva.

To withdraw the insert, simply give the tail a gentle but firm pull to release the insert.

Dispose of used inserts in a sealed, plastic container in accordance with applicable local, state and federal regulations.

Table 1 shows that cows bred following use of EAZI-BREED CIDR Inserts had a significantly higher percentage of synchrony than the other two groups, for both cycling and non-cycling cows. This improved synchrony led to greater pregnancy rates.



Source: Lucy, et. al., Journal of Animal Science, 2001. 79:982-995.
What is the expected pregnancy rate with a controlled breeding program using EAZI-BREED™ CIDR® Cattle Inserts? How does it compare to other programs?

Trials conducted with dairy heifers, beef cows and beef heifers to secure FDA clearance of the EAZI-BREED™ CIDR® Cattle Insert in the United States showed the following pregnancy rates from three days of breeding following initiation of the program:*



No controlled breeding program: 4 to 11 percent


Controlled breeding with a single injection of LUTALYSE® Sterile Solution (dinoprost tromethamine): 6 to 37 percent


Controlled breeding with EAZI-BREED CIDR Inserts plus LUTALYSE: 26 to 49 percent

*Results may vary.

Other
Products that are used in Europe, but not approved in the United States are progesterone releasing intravaginal device (PRID) and controlled internal drug releaser (CIDR).
Results of clinical trials (Day SFT Proceedings 2003)
Pregnancy rates in %
Method
Heifers
Cows-Beef
Note
Conception Rate
Pregnancy Rate*
CR
*PR rate based on cycling
Select Synch
64
-
Co-Synch
39
39
PGF
63
-
MGA + PGF
67
57
CIDR + Co-Synch
66
66
CIDR + PGF
60
39
CIDR + Estradiol
60
60
PGF + GnRH
75 (4.4)
< 10 mm follicles (more EED)
100
Spontaneous
57
> 13
8
ET to < 10 mm
67
ET to > 10
SUMMARY
Although the ideal estrus synchronization program is not available, strides are being made toward attaining the goal. Presently, producers must maintain good management systems and choose an estrus synchronization method that best fits their management and budget situations.